Fundraising Goals Made Easy
Campaign Deputy gives you the tools to achieve your fundraising goals. Easy-to-use for first time candidates and powerful enough for when you run for Congress.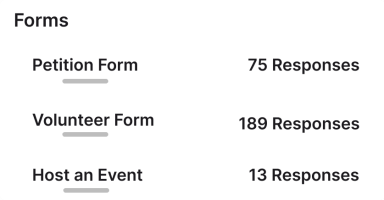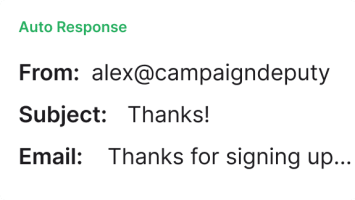 Stop overpaying for fundraising software
Track your call list and manage ask to give amounts in real time. Call, email, and follow up with reminders while getting the reports you need to stay on track.
Trusted by 350+ campaigns
"As an all-volunteer, self-funded, grassroots fundraising group working to elect Democrats, Force Multiplier's adoption of CD has been a game-changer. They have helped us raise $11 million from over 12,000 donors by providing excellent customer service and accommodating our needs at a very reasonable cost."
"There is no better donor or volunteer management system than Campaign Deputy! I've worked on a few campaigns on the state, local, and federal level and I wouldn't want to use any other system. It was so easy to get press releases, video endorsements, or fundraising emails out in batches, and it was great to see, in real time, how many times people clicked on a correspondence. I've watched it grow into a system that can catch finance compliance mistakes and notify your team the mistake they need to fix. Campaign Deputy is easy to learn, and will transform any campaign into a well-oiled political machine. The support you receive from the Campaign Deputy staff has helped my most recent campaign raise $1.5 million for a first time candidate. It is a valuable tool and should be your first investment!"
"Campaign Deputy is a fantastic fundraising and compliance CRM with an accessible team to handle any and all troubleshooting. I first started using it in 2017 for a municipal campaign and now all of my clients up and down the ticket use Campaign Deputy for call time management, emails, and compliance."
"Campaign Deputy support is amazing. They can quickly respond to any issue you have and give you a solution to anything. I started using Campaign Deputy in 2018 and it is better every year.​"
Integrates with your apps
Integrations into the most commonly used applications.
ActBlue
Automatically import and match to your current donors in real time.
Google Sheets
Add form responses automatically to a Google Sheet​
Zapier
Connect with thousands of other apps with our custom Zaps
ActionNetwork
Sync your contacts and check/cash contributions directly with ActionNetwork.
Anedot
Automatically import and match to your current donors in real time.
Phoneburner
Send your Call Sheets directly to PhoneBurner from your Campaign Deputy account.